About Miss Svenson and the school room
I am a mature edu­cat­ed and attrac­tive woman (nat­ur­al blond size 12, 5 feet 6 tall) orig­i­nal­ly from Scan­di­navia. I usu­al­ly dress with casu­al ele­gance or as a head­mistress from the 1950s.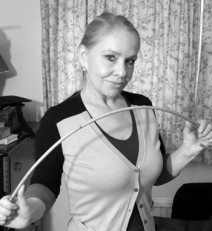 I tru­ly enjoy pun­ish­ing naughty boys and girls and I take pride in cre­at­ing an enjoy­able but painful scene. My clients' wish­es are impor­tant to me so I am always inter­est­ed in their own ideas and fan­tasies.
If you're look­ing for a dom­i­na­trix in thigh-high leather boots and exposed nip­ples, you have come to the wrong web­site. I act and dress like the pro­fes­sion­al woman I am. For me, a woman admin­is­ter­ing dis­ci­pline to a naughty boy should be an author­i­ty fig­ure first and fore­most — and look the part.
Cor­po­ral pun­ish­ment has always been known as the Eng­lish vice, but believe me, speak­ing as a Scan­di­na­vian, it cross­es nation­al bound­aries. Some of my most enjoy­able ses­sions have been with men trav­el­ling to the UK from Europe or the States to receive a clas­sic "six of the best" in a tra­di­tion­al Eng­lish set­ting.
A while back I moved to a love­ly cot­tage with lots of pri­va­cy in the Med­way area in Kent. There I have cre­at­ed a school­room with lots of atmos­phere which takes you right back to the 1950s. Over the years I have col­lect­ed a large num­ber of authen­tic imple­ments includ­ing, canes in all sizes, think leather straps and orig­i­nal Lochgel­ly Tawses. You can read more about the school­room here The school­room.
As so many have sug­gest­ed I have a wish list, here it is:
http://www.amazon.co.uk/gp/registry/wishlist/32RZVMKHKANCT/ref=topnav_lists_1